The history of Salsa sauce originated with the Inca people. Salsa (combination of chilies, tomatoes and other spices) can be traced to the Aztecs, Mayans and Incas. The Spaniards first encountered tomatoes after their conquest of Mexico in 1519-1521, which marked the beginning of the history of Salsa sauce. Aztec lords combined tomatoes with chili peppers, ground squash seeds and consumed them mainly as a condiment served on turkey, venison, lobster, and fish. This combination was subsequently called salsa by Alonso de Molina in 1571.
According to the hot sauce history, salsa manufacturing in Texas began in 1947 with David and Margaret Pace and their picante sauce.
Between 1985 and 1990, Mexican sauce sales grew seventy-nine percent; between 1988 and 1992, the percentage of American households buying salsa increased from 16 to 36.
In 1991, salsa outpaced ketchup as the most popular condiment in America, now outselling ketchup 2-1.
Today tortillas outsell hotdog and hamburger buns. Corn chips outsell potato chips. Burritos are as American as Apple pie.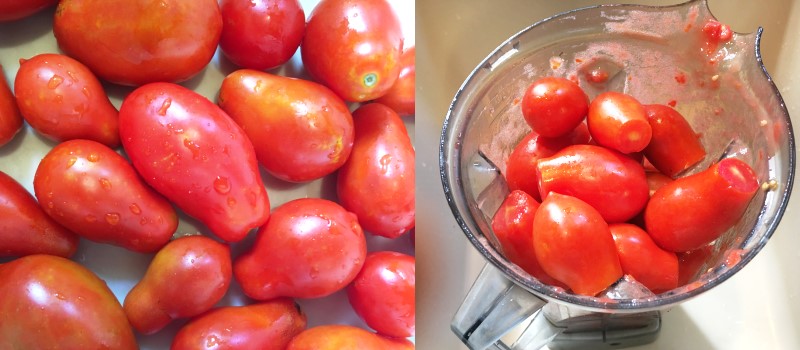 Salsa Roja – red sauce. Made with cooked tomatoes and other ingredients
Pico de Gallo – Also called Salsa Cruda. Made with raw tomatoes and other raw ingredients
Chili Verde or Green Salsa – Made with Tomatillos, a small fruit that grows inside a paper-like outer covering
Chipotle – Smoked Jalapeno chili peppers
Picante – Spicy hot
Calliente' – A hot temperature
Pica Mucho – Hot on the tongue
Basic Recipe
Tomatoes
Onion
Garlic
Green Pepper
Jalapeno Peppers
Spices
Salt
Cumin
Vinegar
Sugar
Lime Juice
Options
Sweet Corn, Carrots
Fruit: Peaches. Mango, Pineapple
Tomatoes and Acid Balance
High acid levels are important, because the presence of acid inhibits the germination of botulism spores into the botulism toxin. Botulism spores can only develop into the botulism toxin in low acid, oxygen-free environments.
This is accomplished primarily by the tomatoes, but the addition of vinegar and lime juice helps as well. If you are adding non-acid vegetables and/or fruits, it is important to keep their quantity or percentage of the salsa low to insure acidity levels stay high.
When you preserve something in a boiling, water-bath canning pot, you heat the jars and their contents to the boiling point (that temperature varies depending on your elevation, but at sea level the boiling point is 212 degrees F). That heat is enough to kill off the micro-organisms that can cause spoilage, mold, or fermentation, but it's not enough to kill botulism spores (they require far higher temperatures).
The 5TH ANNUAL SALSA CONTEST – THE FARM MARKET DAY UNDER THE DOME
The Third Saturday in August from 9 AM to 2 PM
Spice up your weekend with one of the hottest events of the summer: The 5th Annual Salsa Contest at The Farm Market Under the Dome in Summertown, Tennessee, Saturday, August 20, 2016!
Recipes from across Middle Tennessee will be competing for cash and prizes.
Peach, mango, pineapple, green, chipotle…who knew there were so many types of salsa? It is amazing how many variations in flavor there can be. Don't worry. Cold drinks are available from The Farm Store if you hit one with extra jalapeno peppers!
You are the judge! Entries are lined up on a table, with a steady supply of corn chips on hand for you to sample each one. Vote for your favorite. It is that easy to participate and that easy to win.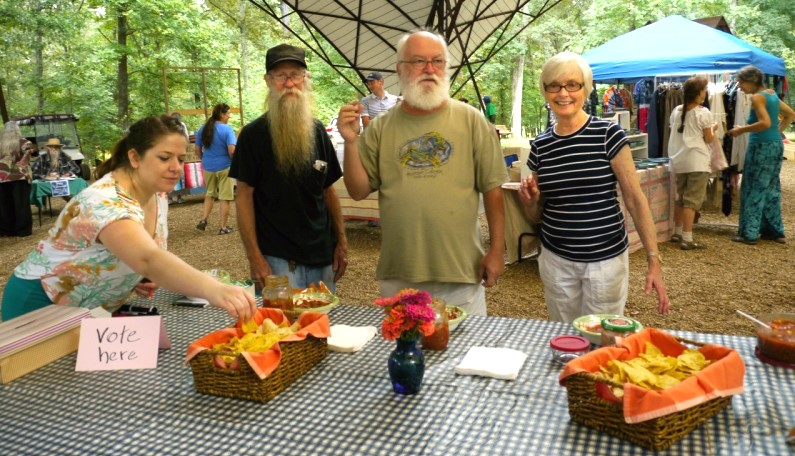 To enter, simply bring 1 pint to one quart of your prepared salsa. If yours turns out to be one the most popular, be sure to have enough on hand so that you don't run out before voting ends at 2 PM.
The Farm Market Day is held the third Saturday of the month April through October from 9 AM to 3 PM. Vendors set up under the huge covered dome, with a wide variety of items for sale, from local Amish and home grown vegetables, to baked goods, jewelry and crafts, high quality yard sale items and more. Additional vendors are welcome, with a 5% sales fee collected at the end of the day by the Market organizers.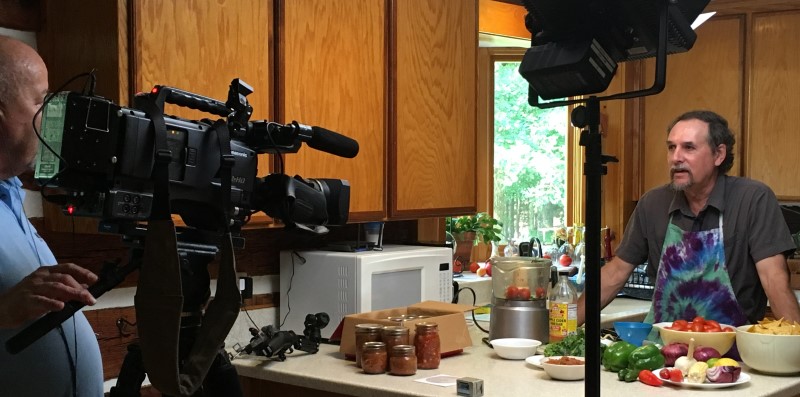 Each month (during the season), to promote the market, I write and send out a press release to local media. We have had good luck getting articles and photos in newspapers, but  we finally got picked up by a Nashville TV channel.
The piece aired 3 times, once on the 11 AM news, once on the 4 PM news, and again on Saturday morning. Since they were producing the news piece before the contest on the weekend, to give the camera guy something to record for the show, we went out to the garden to pick vegetables, and then I demonstrated making salsa, along with a lesson on home canning. We also interviewed Beth Cramer and Obie Orlinsky, the previous year's first and second place winners.
http://wkrn.com/2016/08/18/annual-salsa-competition-draws-in-people-from-across-middle-tennessee/