Join us for Awakening Heart, the first Dances of Universal Peace Weekend at The Farm Community in Summertown, Tennessee.
A Weekend of Dance, Music and Celebration
Yoga and Kirtan
Guided Nature Walk
Farm Community Tour
All Vegetarian Meals Provided
Music, Love, and Spirit!   See the Weekend Schedule
The Dances of Universal Peace (DUP) are a spiritual practice employing evocotive movements and singing sacred phrases and poetry from the world's spiritual traditions.
The steps are simple and easy to learn, everyone in a circle, sometimes moving in one direction or the other, at other times with a partner, all while chanting and singing together.
As we dance and sing in unison, the vibrations from our voices and musical instruments become as one. There is an uplifting energy present that connects our hearts to one another and to the essence within us.
It is a very powerful spiritual experience and an incredible way to create a heart connection and build a sense of community. 
We are thrilled to welcome Murshid Allaudin Ottinger, one of America's best-loved leaders of the Dances of Universal Peace, as our dance leader for the weekend.
A senior teacher in the Sufi Ruhaniat International, Allaudin inspires one and all with his humility, clarity, and inclusive nature, raising the energy to a state of profound joy.
Tentative Schedule
Welcoming Circle
Dinner – Registration includes all vegetarian meals.
Dances of Awakening Heart
 Saturday
Yoga – Greet the day with a good stretch
Breakfast
Farm Community & Green Home Tour
Dance of the Heart
Lunch
Saturday Afternoon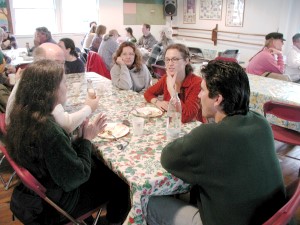 Kirtan
Dance of the Spirit
Guided Nature Walk
Supper
Dance of the Soul
Late night singing and campfire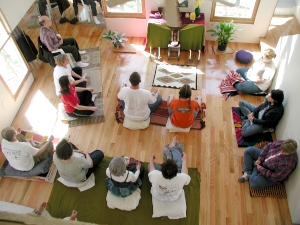 Sunday
Breakfast
Group Meditation
Kirtan
Closing Dance
Closing Circle
Please let us know how to help you get the most from your experience.
Friday 5 pm to Sunday Noon 
$150 per person – Price includes all meals, Friday supper through Sunday lunch
$15 per Camp site: per night – Bathrooms and hot showers available
$25 Dorm rooms:  per bed, per night
B&B accommodations available. Let us know if you need any assistance.
More about Dances of Universal Peace
The Dances of Universal Peace are derived from a lineage of Sufi Masters, teachers of the mystical form of Islam.
Hazarat Inayat Kahn brought Sufi philosophy and teachings to America in 1910, expanding the philosophy into a new form, Universal Sufism  which recognized the essential oneness of all humanity. "The Sufi," said Inayat Khan, "sees the truth in every religion."
Hazrat Inayat Khan's teachings on sound and vibrations presented his vision of the harmony which encompasses every aspect of our lives.
"What makes us feel drawn to music is that our whole being is music; our mind and our body, the nature in which we live, the nature that has made us, all that is beneath and around us, it is all music. We are close to all this music, and live and move and have our being in music…The mystery of sound is mysticism; the harmony of life is religion. The knowledge of vibrations is metaphysics, the analysis of atoms is science, and their harmonious grouping is art. The rhythm of form is poetry, and the rhythm of sound is music. This shows that music is the art of arts and the science of all sciences; and it contains the fountain of all knowledge within itself. Music should be healing; music should uplift the soul; music should inspire."
In 1919, Samuel Lewis, an American born to Jewish parents, became part of a Sufi community in California and a student of Hazrat Inayat Khan.
A year later, he also became the student of a Zen Buddhism, and eventually was recognized as both a Sufi Murshid and ordained as a a Zen master.
Over the ensuing decades, Lewis traveled around the world, seeking to encounter other mystics and spiritual teachers.
While in the hospital recovering from a heart attack in 1967, Lewis stated that he heard the voice of God say, "I make you spiritual leader of the hippies."
From this came his inspiration to create the Dances of Universal Peace, which encompass all of the spiritual traditions, Lewis encountered during his travels.
Called "Sufi Sam," by his students and followers, Lewis traveled throughout California teaching his music and dances to young people open to the spiritual experiences they provided.
Murshid Sam established  Sufi Ruhaniat International to carry forward his music and the Sufi lineage, shortly before his passing in 1971.
"Words are not peace. Thoughts are not peace. Plans are not peace. Programs are not peace. Peace is fundamental to all faiths. Peace is fullness, all inclusive…and must be experienced."
Dance circles now take place in all parts of the world.
Visit the web site to learn more.
https://www.dancesofuniversalpeace.org/
Watch a video of a dance with Allaudin
https://youtu.be/LmcCSJpozGk
Registration
Awakening Heart Weekend Adult Registration
$150.00

Registration for Farm Experience Weekend includes 5 meals, Friday supper through Sunday brunch. Camping is included. Dorm rooms are $55 for 2 nights. Other accommodations are available, including cabins and private rooms. See Additional Accommodations

Awakening Heart Weekend 2 Adults Registration
$275.00

——————————————————————————–
Awakening Heart Weekend Student Registration
$100

——————————————————————————–Awakening Heart Registration Child age 5 to 15
$25

——————————————————————————–Farm Awakening Heart Family Discount
$325 –

2 adults and 2 or more children

——————————————————————————–
Farm Experience Registration Returning Discount
$100 –

A special offer for everyone who has been to a previous weekend

——————————————————————————–Awakening Heart Registration Dorm Space
$50 for 2 nights

Camp Site
$30 for 2 nights

Cancellation Policy:
Up to 2 weeks before the event I offer a full refund.
8-14 days prior to the event there is a 10% cancellation fee.
7 days or less would have a 20% cancellation fee.